Last Training before Attempt
// Juli 18th, 2012 // No Limit
During my Last Training on the 17th July I was very focused. This Training was very important to me because I needed to know that I´m confident enough to go on my target depth for the record attempt. Again warum up was good and I did hangs with a dive time of 3:44 min.
I was a bit afraid my ears would not work with me but they were fine during the first two sled dives.
Then I went down for the 110m. Position, Relaxation and Equalisation all were good. Down at 110m I enjoyed the look at the bottom for a few seconds and then I inflated the ballon.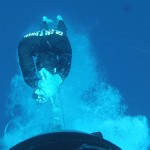 The Last Training went Perfect! And I have two days off before the record attempt.
Tomorow Matze from Robinson Club will arrive to support me on the attempt.